At Phenikaa School, we welcome experienced, enthusiastic and dare-to-change teachers to develop a generation of creative, excellent and happy Vietnamese students.
As an educator working in a Compassion – Creativity – Collaboration #3C environment, you will find your own space to develop professionally and be supported by passionate colleagues.
To apply, please visit the link below and fill in the required information for careful examination: https://forms.office.com/r/E1yEsSZ0xR
We will contact you as soon as there is a recruitment need and your profile matches our requirements.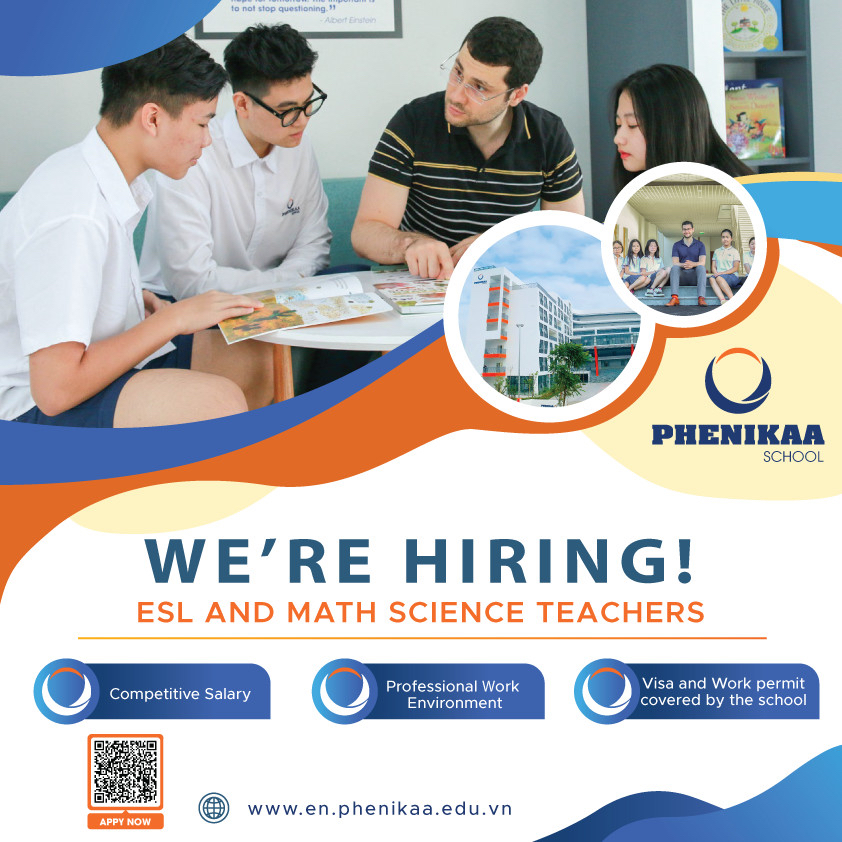 Phenikaa School is now recruiting full-time ESL teachers and Math-Science teachers with:
• Competitive salary from $2000
• Visa and Work permit covered
• Summer pay of 50% monthly salary
• Online teaching pay during pandemic up to 80% monthly salary
• Medical insurance sponsored upon signing Labour contract
• Bonuses on special occasions, public holidays and end-of-school year
• All other benefits in accordance with the Labour law: social insurance, health insurance,…
Our requirements:
• Nationality: USA, UK, Australia, Canada, New Zealand
• Education: Bachelor's degree in Education (preferred) or other majors with Teaching license (PGCE/QTS or equivalent postgrad certificate)
• At least 2 years of teaching experience
• Reference letter, sample lesson plans attached with CV are preferred
Phenikaa School | https://en.phenikaa.edu.vn
Tu Hoang road, Nam Tu Liem district, Hanoi
☎ (+84) 942 147 996
📧 [email protected]